Monthly news
Close gym
Due to COVID-19. Open to be announced.

NEW
Free Trial
Gym kids Free trial To be announced.

NEW
Program
Our kids gym of these programs is to focus on basic skills and gymnastic techniques for preschool and elementary school students. Have fun and learn how to tumble!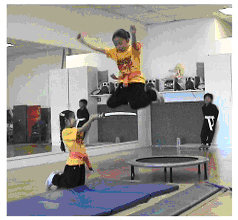 3-5yrs old
Learn basic exercise moves, tumbling, balancing, and jumping with the trampoline!
6-9yrs old
We teach kids to work on various gymnastics moves, including handstand, bridge, cartwheel, backhand spring, and other advanced gymnastics elements.
Private lesson
Your child will learn specific skills leading up to advanced techniques such as handspring, backhand spring, and back flip
Schedule
Time

Age

Program

Location

Tuesday

4:30-5:00pm
3-5 yrs old
little gym
Shirayuri pre-school

Wednesday

5:15-6:10pm
3-5 yrs old
little gym
South End
6:15-7:10pm
6-9 yrs old
big kids gym
South End

Thursday

5:30-6:25pm
6-9 yrs old
big kids gym
South End
location
Torrance:(Inside South End No membership needed)
2800 Skypark Dr. Torrance, CA 90505